Barrel top set with recess for a Whisky Bottle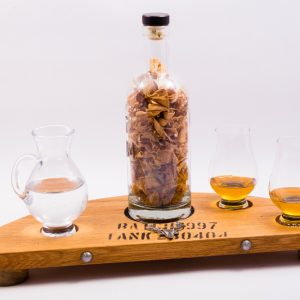 The Harris Whisky set has a space for a water jug, two whisky glasses and your favourite bottle of whisky. The set is finished off with whisky barrel bungs as feet (whisky bungs are used to seal the oak cask during the ageing process), two stud rivets and charcoal tweed inserts (one displaying the Harris tweed orb) for the glassware to sit on. Great care is given so there is a fine finish to the Oak Barrel top while still leaving as much character as possible.
Glasses, water jug and badge needs to be added if required, whisky bottle with chips is not included.
Please note: whisky sets are made from re furbished Barrel tops.